Plumber Plumbing Cork
I&V Construction General LTD provides comprehensive, high quality plumbing services for residential and commercial clients with our fully certified plumbers in the city and county of Cork. Our work is fully insured to give you peace of mind and our team of experts is committed to providing quality service, reliable plumbing solutions and customer satisfaction for all installation, repair and maintenance.
For many years, I&V Construction General LTD has consistently provided professional plumbing services. Our customers recommend us for our reliable response time, quality service and efficient plumbing repairs for households and commercial businesses. Our teams of plumbers from Cork are all RGI registered and insured.
Bathroom Renovations & Remodeling
Bathroom Renovations Cork
Modern Shower Panels
Bathroom area will always be your intimate retreat, a place where you can unwind, rest and relax yourself after a long hectic day, or cool off on a hot summer day. Get the perfect shower from Bathroom Renovations Cork range of electric showers, massage showers or thermostatic shower valves. Suitable for all budgets, Bathroom Renovations Cork stylish collection of shower systems can help you achieve the relaxation you desire. Before any renovation work begins, you will receive a new custom bathroom design for your approval. You will be able to provide feedback, make changes and modify parts of the design seamlessly. Bathroom Renovations Cork team will incorporate your feedback and work with you to implement your bathroom ideas.
Bathroom Dublin Plumbing Service
Bathroom plumbing is the most common job our Dublin plumbers respond to. We replaced bathtubs in houses in Booterstown, unblocked toilets in Ballyfermot and installed showers in Donabate. Whether you need to repair or install faucets, help with clogged pipes, or renovate your entire bathroom, we can help.
Kitchen Plumbing Services
Every day we install kitchen appliances such as dishwashers and washing machines. Let us know when your new fixture arrives and – whether you're in Artane or Knocklyon – our local plumber will have you hooked up and ready to go in no time.We can also help you replace kitchen sinks and faucets when you decide it's time for a change. Quookers and boiling hot water taps are also increasingly popular in Dublin homes, we are happy to advise you on the options available and the suitability of each for your home plumbing needs.Kitchen leaks are common in faucets, appliances, and even water heaters, but they're not always easy to find. If you suspect you have a leak, call an I&V Construction General LTD plumber for leak detection services.
Household Plumbing Services
Every house in Dublin has a network of pipes inside and outside the house. As homeowners, we all depend on it for water, heating and waste disposal. If something goes wrong, it can be a nuisance for everyone in the house.I&V Construction General LTD offers a full home plumbing service in Cork. So if your cistern needs to be replaced, sewer pipes need to be flushed, water pressure adjusted or you have any other plumbing problem, we have a plumber near you who can help you today.
Install Floating Shelves
Large bathroom with a floating bath along with LED lighting at the bottom. Also a wall shelf on the board and a wall crate for shampoos and conditioners. Floating shelves are useful and combined with other decorations (bedroom, chest of drawers, mirror, etc.) are beautiful and stylish. The floating shelves can be placed parallel to each other at different heights. They can be decorated if placed correctly, but keep in mind that open shelves need to be clean and clear to use it for long run. So we have our Bathroom Renovations Cork team who will help you to get your dream bathroom along with cabinets. Whether it's a quick morning routine or a luxurious Sunday shower, dish and soap dish, toothbrush holder, stylish toothbrush basket, toilet paper holder, towel ring and wall shelves to store your bath products, do it yourself. Bathroom Renovations Cork can help you find the perfect accessories to complement the decorous design of your space. Replace that old radiator tower rail with warmer clothes and add some of the most beautiful features to your bathroom. Bathroom Renovations Cork accessory is the perfect addition to your bathroom as it will not only heat your towels, but if measured correctly will generate the right heat output for your bathroom. Elegant and functional, with a wide range of bathroom furniture, the design will complement your bathroom design, providing storage space for all your toiletries. Bathroom Renovations Cork offers practical and beautiful bathroom furniture solutions to help you organize and enlarge your space.
Hidden Cistern Toilets
The cistern is a relatively modern way of mounting the toilet on the wall for the effect of floating. Bathroom Renovations Cork will help you with a large tank and pipes located behind the wall, it creates a feeling of being more spacious and easier to clean. But what if something starts ringing and you have to go to the rinse aid dispenser for adjustment or repair? The built-in cisterns have become more popular in recent years, the more sophisticated these access panels have become – and it's often hard to tell how and where to find them, especially when looking at a wall of fuzzy tiles. You'll need a little detective work, but our Bathroom Renovations Cork team help you uncover the secrets of accessing the hidden tank.
Lightings in Modern Bathroom
Bathroom lighting can be used as mood lighting as well as for refreshment. Our bathroom lighting is resistant to humidity and water (splash). In our Bathroom Renovations Cork bathroom lighting collection you will find recessed spotlights, ceiling lights and wall lights. Lighting the bathroom furniture makes you smile more in the morning. The lamp gives you a good look at the things kept inside the cabinet, it helps in getting ready steadily. When the lights shine on you and you can find everything you need, you can start your day right. Bathrooms have ceiling lights, many to choose from reduced or semi-recessive, traditional to glass or modern LEDs. There are a variety of styles available such as square, round, chandelier, spot or recess.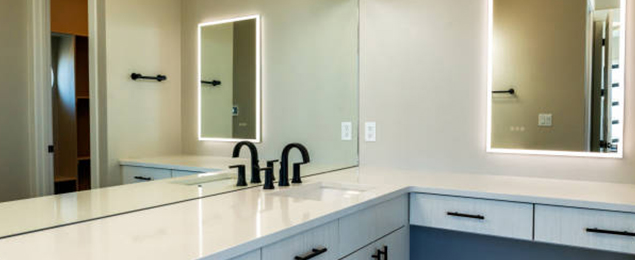 Large-sized Bathroom Mirrors
Discover our Bathroom Renovations Cork stylish range of contemporary bathroom mirrors, mirrored bathroom cabinets for storage and lighting with window cleaner drawers, which are also available with sensors and LED lights. Don't give up the dream of decorous bathroom thinking it's an impossible dream because of the size of your bathroom. Anything is possible, big or small, and Bathroom Renovations Cork help you achieve the design you want. Layout elements such as wood or stone, double or single washbasins with clever storage solutions recessed in niches, or whirlpool baths or a walk-in shower – in the shower, whatever you think, we can do it. Remember it's always smart to make the most of your space.
Modern Beautiful Bathroom
Complete your bathroom with our Bathroom Renovations Cork prestigious collection of bathroom accessories. With careful attention to the smallest details, Bathroom Renovations Cork accessories are carefully crafted to complement your bathroom décor and design. Transform your bathroom into your own personal spa with Bathroom Renovations Cork range of sophisticated bathroom accessories that can style and enhance the overall look of any bathroom and add a touch of luxury to the room. We all spend a lot of time in our bathrooms, so it's good to design it in a beautiful place. Unique bathrooms, elegant support and modern bathroom designs come in all shapes and sizes to accommodate large and small spaces and patterns. In addition to basic amenities, bathrooms can be supplied with elegant dispensers and storage. Having a luxurious bathroom is often desired by all, but achieving it can seem like an impossible dream, well, not now. With the right help from the start, it is possible to create a designer bathroom that is affordable, realistic and modern. A modern bathroom is always a good idea in all modern homes, but it can also add an elegant and innovative touch to an older bathroom. Simplicity is the rule in Bathroom Renovations Cork project. We at I&V Construction General, Bathroom Renovations Cork provide ideas with beautiful toilets, wardrobe, faucets, bathroom accessories and atmospheric lighting techniques.
IVCG is a licensed and insured commercial and residential home improvement company. If you are looking to remodel your Home Interior / Exterior, IVCG is your one stop shop for all professional services in Cork area. We have a professional team specializing in various commercial and residential projects. At IVCG, we believe in doing our best to ensure customer satisfaction. We ensure that each of our projects is handled carefully and efficiently.
We understand that each project is unique and requires specific strategies. Not only do we handle large commercial renovation projects, but our team also specializes in residential renovations.
Our team of experts will devise a strategy that best suits your needs, and dedicated projects will ensure that every step is executed to perfection. We approach each project with undivided attention and continue to work until our clients are completely satisfied with the results.
Our attention to the small details, planning the schedule and in-depth project management is what sets us apart. Plus, we're creative and keep an eye on the calendar and your budget.
Our prices are competitive and reasonable. No surprise bills. Any unexpected or additional charges must be approved by you in advance. We treat our customers the way we want to.
Plumbing Cork Plumbing Cork Plumbing Cork Plumbing Cork Plumbing Cork