Block Paving And Patio
Block Paving is one of the most popular methods for driveways, footpaths and patios in Cork. Block Paving and Patio Cork range includes a wide selection of commercial and block paving and patio options, a fantastic selection of kerbs and decorative covers, high quality kerbs and block paving, Block Paving and Patio Cork provides highly affordable solutions for a variety of construction projects like landscaping, civil engineering and construction. At I&V Construction General, Block Paving and Patio always make a great first impression with our attractive, well-designed driveway block paving and patio. Block Paving and Patio Cork have a wide range of entry blocks that can meet your needs in a variety of styles, colors and finishes. Block Paving and Patio Cork products is a very durable option for driveways and can reliably last for at least 20 years.
Choose The Best Block Paving And Patio Cork At IVCG
It is a great material for a driveway or patio as it is extremely durable and can easily withstand a lot of wear and tear from pedestrian and car traffic. Paving stones have the same shape as bricks and hence it is called block paving. Paving stones are smaller and thicker than stone slabs and can also serve as a decorative border around terraces. You can buy Block Paving and Patio Cork floors in packages or individually, depending on the look of your driveway or patio. Alternatively, I&V Construction General have aggregate, sand and concrete products, including asphalt, for a replacement style for transitional projects.
We Supply Different Types Of  Block Paving and Patio Cork
Brick-like pavers are created and hence are commonly called pavers. They are smaller and thicker than slabs, so they also look great as a decorative border around patios. You can buy Block Paving and Patio Cork pavers in packages of medium or mixed bricks, depending how you want your patio to look.
Stone rugs are pre-made stone rugs that you can cut to the shape and size you want. IVCG provide an easier way to get a rusty cobblestone look without having to set each stone individually. Stone rugs are also ideal for oddly shaped areas such as curved garden paths and garden ponds. Stone gardens work well in the forest, gravel or even around the edges of your plants and provide a smooth and stable surface for your garden plants. They also add a distinctive identity to any space.
Paving Blocks Are Available in Various Sizes
Block Paving and Patio Cork garden tiles range from light limestone to concrete and natural stone, perfect for patios or edging stones. Standard pavers are placed on sidewalks in herringbone patterns, while cobbles and cobblestone pavements are placed in 1 to 3 different sizes to create an offset pattern. You can add more of these patterns by installing a block coating or diamond pattern in your driveaway.
Building blocks are great solar powered boards and the most common choice. This is a great way to create a clean look and more affordable coverage. You can buy Block Paving and Patio Cork liner boxes in different packaging, so you can choose one size for all the bags with the same look or mixed sizes to make your style more unique. If you want a round terrace, our round ball pack can help. Modern materials that require minimal maintenance. It is heated to 1400 degrees Celsius because of its strength and durability. Non-permeable to counter or scratch-resistant. Our natural stone is made from 100% natural stone – unique and individual – natural material, colors and patterns can vary with each piece. Block Paving and Patio Cork are made with great arrangement that will last for many years and they are less prone to crack or burst, as compaired with other materials, they are also able to withstand the frost cold of winter.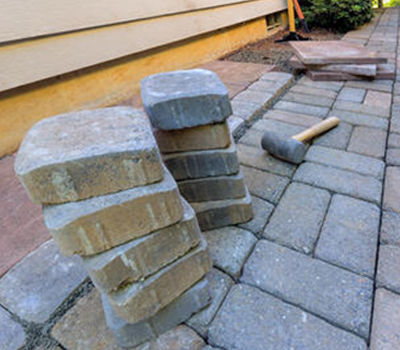 Colours of Paving Blocks You Stock
At I&V Construction General, Block Paving and Patio Cork is celebrated for its strength and is a very durable gemstone indeed, making it a best choice for high-traffic areas. With increasing popularity of Block Paving and Patio Cork, hand cut and diamond cut, is offered in two finishes: soft blue/black for modern outdoor spaces and colorful are for more traditional gardens. Block Paving and Patio Cork offers it in different colors. Block Paving and Patio Cork provides circular packs which are used to create the perfect focal point for your rustic gardens. Take a match for the sets and garden stepping stones. Concrete is a man-made product that dupes the natural mineral appearance. It is also called engineered stone because it is casted in specially designed ways. It is the only popular and inexpensive option. Our water pumps are specially designed to allow rainwater to seep into the ground instead of entering public sewers. If you want to put clinker that can get into the water, take a look at Block Paving and Patio Cork list of aggregates that can get into the water. We can reduce the risk of flooding with Block Paving and Patio Cork waterproof valves. Traditional cobblestones collect water through it and discharge it onto a public road, but the entry stones are designed in such a way that the rain can be drawn directly into the ground. This allows the water to absorb naturally and not enter the sewage channel. This makes permeable tiles a cost-effective and environmentally friendly option for your road. For decorating flower beds, garden path or a terrace border between tiles and grass, the lawn edge offers many benefits and possibilities for your garden. Irrespective of how you place them, stone edging will shape and function your garden. Not only are they beautiful to look at, but they also make it easier to keep grass around with a lawnmower.
I&V Construction General gives you a professional finish to your garden wall, the stone not only looks good, but also protects the brick from water and frost damage. Also known as wall capping, these boards sit on exposed exterior walls and prevent rain from entering the bricks. This is important because water-permeable concrete can lead to long-term structural damage, requiring complete replacement. Wall caps can also enhance the look of your garden wall, adding vital finishing touches to your outdoor oasis. Our driveway pavers come in many different shapes and sizes, each with its own look. Tiles of similar dimensions offer flexibility, when installed in different sensitive designs, an easy and affordable way to change the look of your driveway and garden. For example, at I&V Construction General blocked surfacing is available in a traditional herringbone surfacing model or a newer surfacing model – with two styles to with match your neighbours. You can also place your pavers in a combination of square and rectangular blocks, perfectly delivered in the atmosphere of the manual design. Create that iconic aesthetic pattern by choosing between the colors of our subtle and realistic weatherproof look at I&V Construction General, Block Paving and Patio Cork.
Does I&V Construction General deliver block paving?
I&V Construction General allows you to maintain your block and patio tiles in a variety of colors, shades and finishes. For those who like to mix patio tiles and blocks with the rest of the neighborhood. These low profile tiles effortlessly match any beauty in front of your home. However, if you want a more traditional look, Block Paving and Patio Cork would recommend a simple palette. These are pewter tones like autumn, burgundy ocher, and bushes that will give your entryway project a fresh, natural look with a front garden of grass. For a more modern look, try Block Paving and Patio Cork sidewalks and patio blocks in bright and dark colors.
Whether you order paver, ceramic paver or field edger, I&V Construction General can deliver to any address in mainland Cork – though surcharges might apply in some areas. To learn more about our Block Paving and Patio Cork delivery policy, please visit our delivery information page.
Buy Block Pavers Online From I&V Construction General
If you have any questions or would like to learn more about our range of block paving and patio, please contact us on +353 87 135 4444. At I&V Construction General, Block Paving and Patio Cork has friendly team members who will be happy to answer your questions and provide professional flooring advice.
IVCG is a licensed and insured commercial and residential home improvement company. If you are looking to remodel your Home Interior / Exterior, IVCG is your one stop shop for all professional services in Cork area. We have a professional team specializing in various commercial and residential projects. At IVCG, we believe in doing our best to ensure customer satisfaction. We ensure that each of our projects is handled carefully and efficiently.
We understand that each project is unique and requires specific strategies. Not only do we handle large commercial renovation projects, but our team also specializes in residential renovations.
Our team of experts will devise a strategy that best suits your needs, and dedicated projects will ensure that every step is executed to perfection. We approach each project with undivided attention and continue to work until our clients are completely satisfied with the results.
Our attention to the small details, planning the schedule and in-depth project management is what sets us apart. Plus, we're creative and keep an eye on the calendar and your budget.
Our prices are competitive and reasonable. No surprise bills. Any unexpected or additional charges must be approved by you in advance. We treat our customers the way we want to.